Flynn's Arcade - Women's T-Shirt
Inspired by Tron (1982)
Regular price
£19.99 GBP
Sale price
£24.99 GBP
Unit price
per
Sale
Sold out
Share
View full details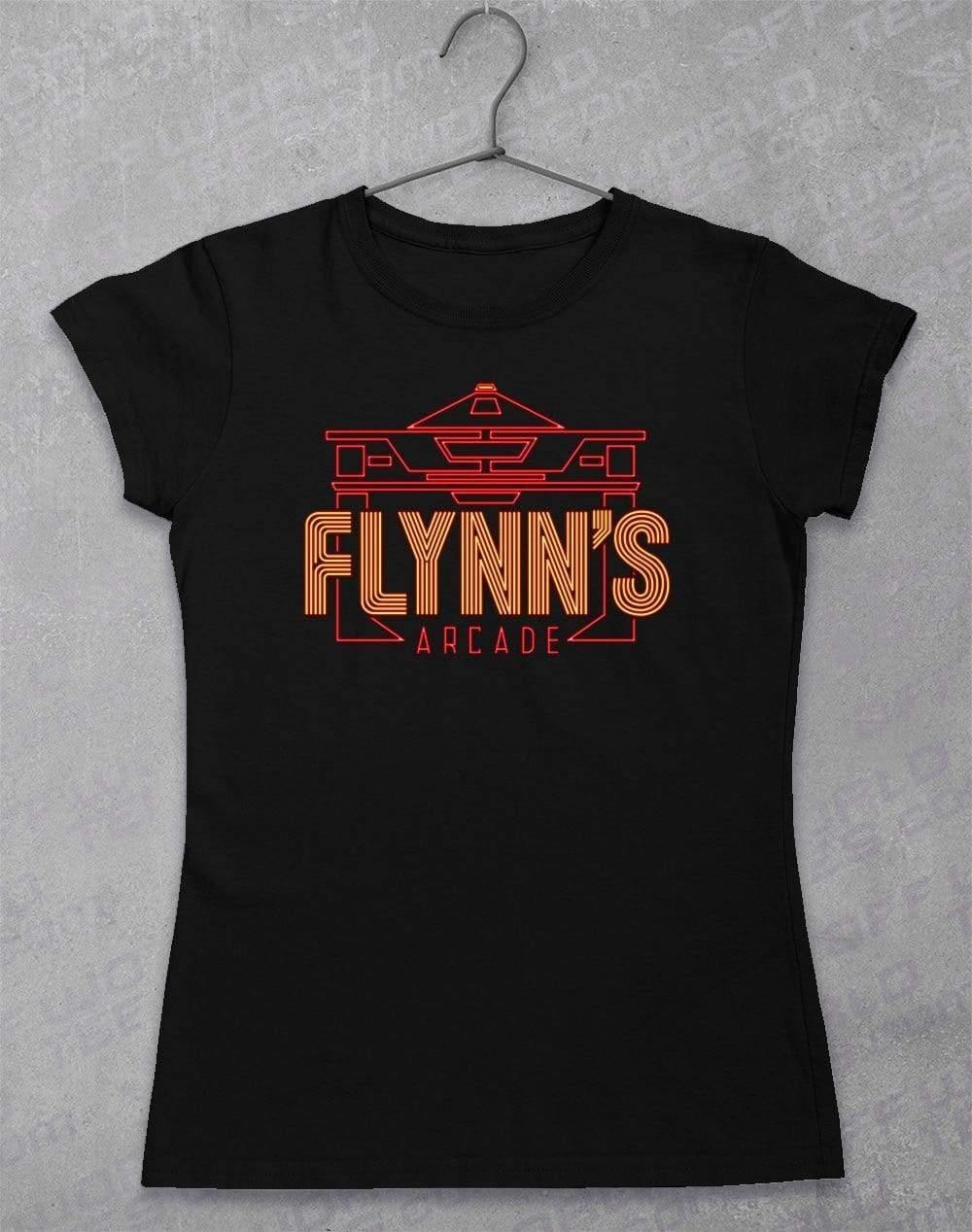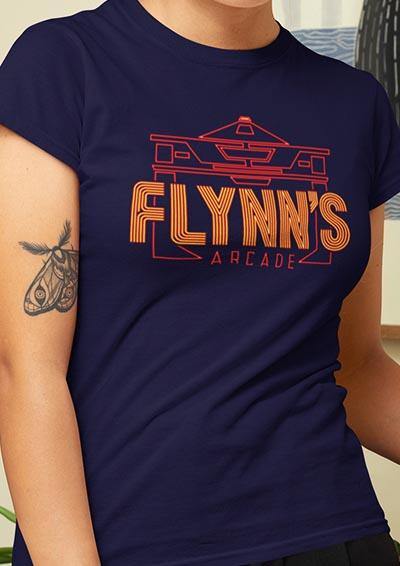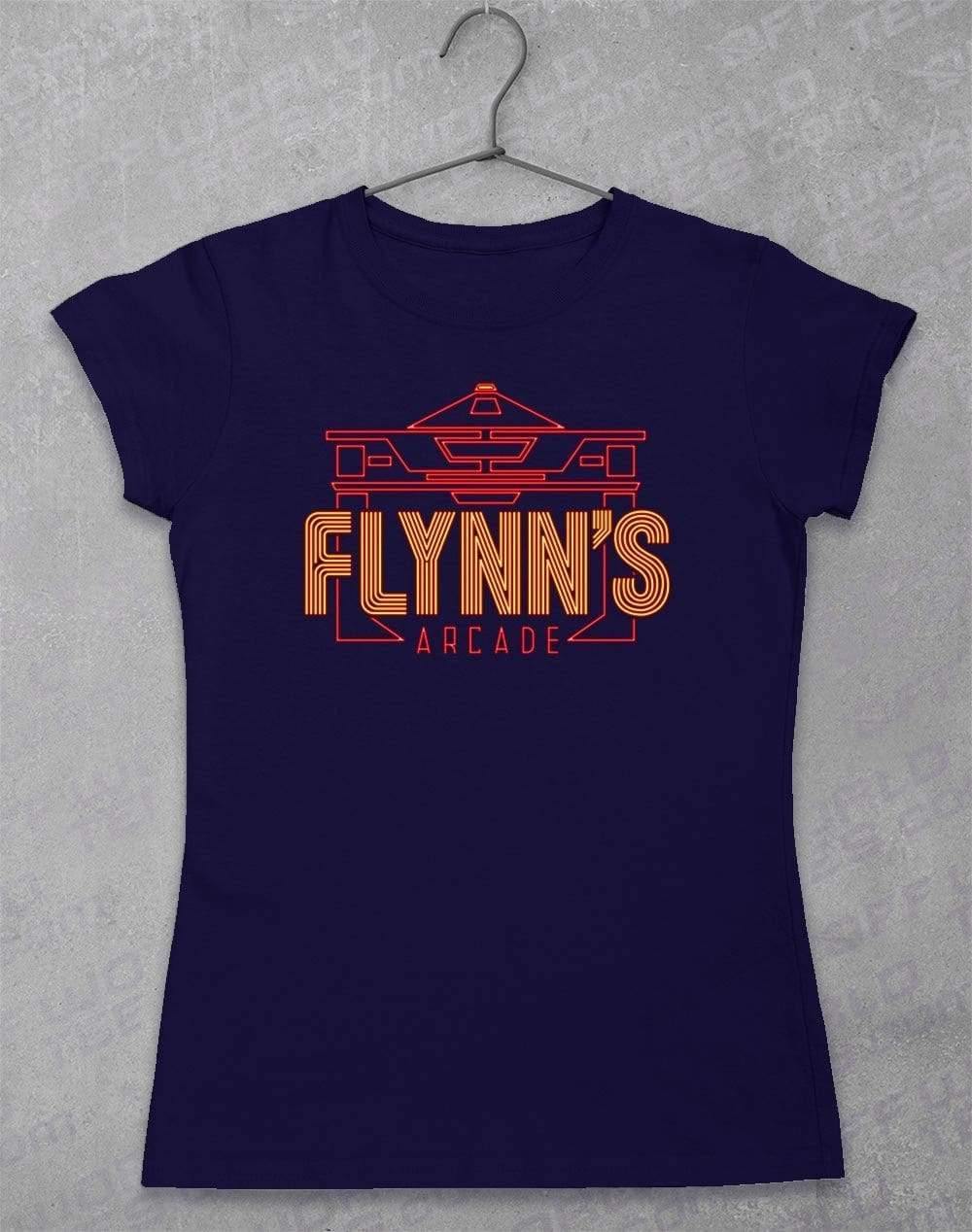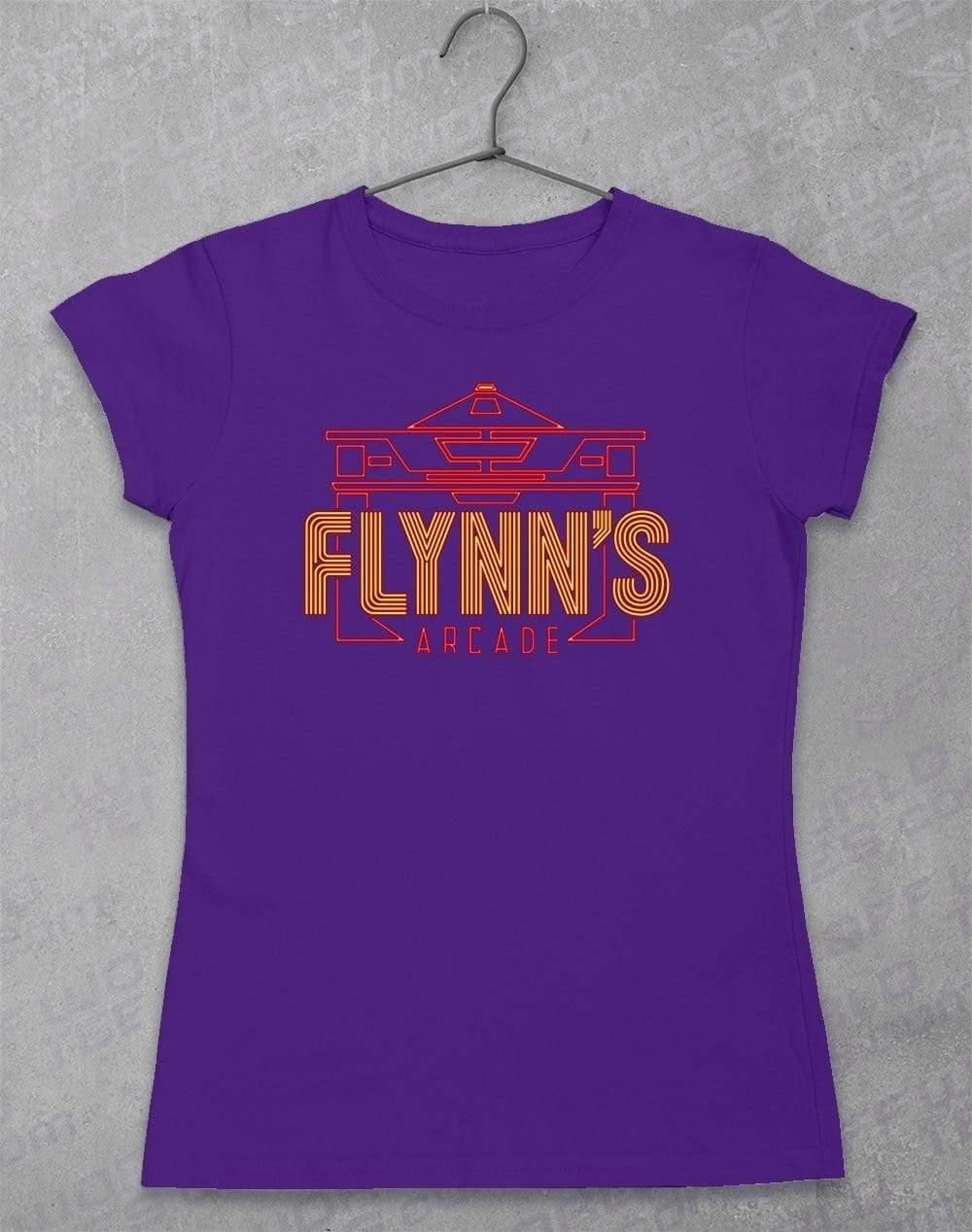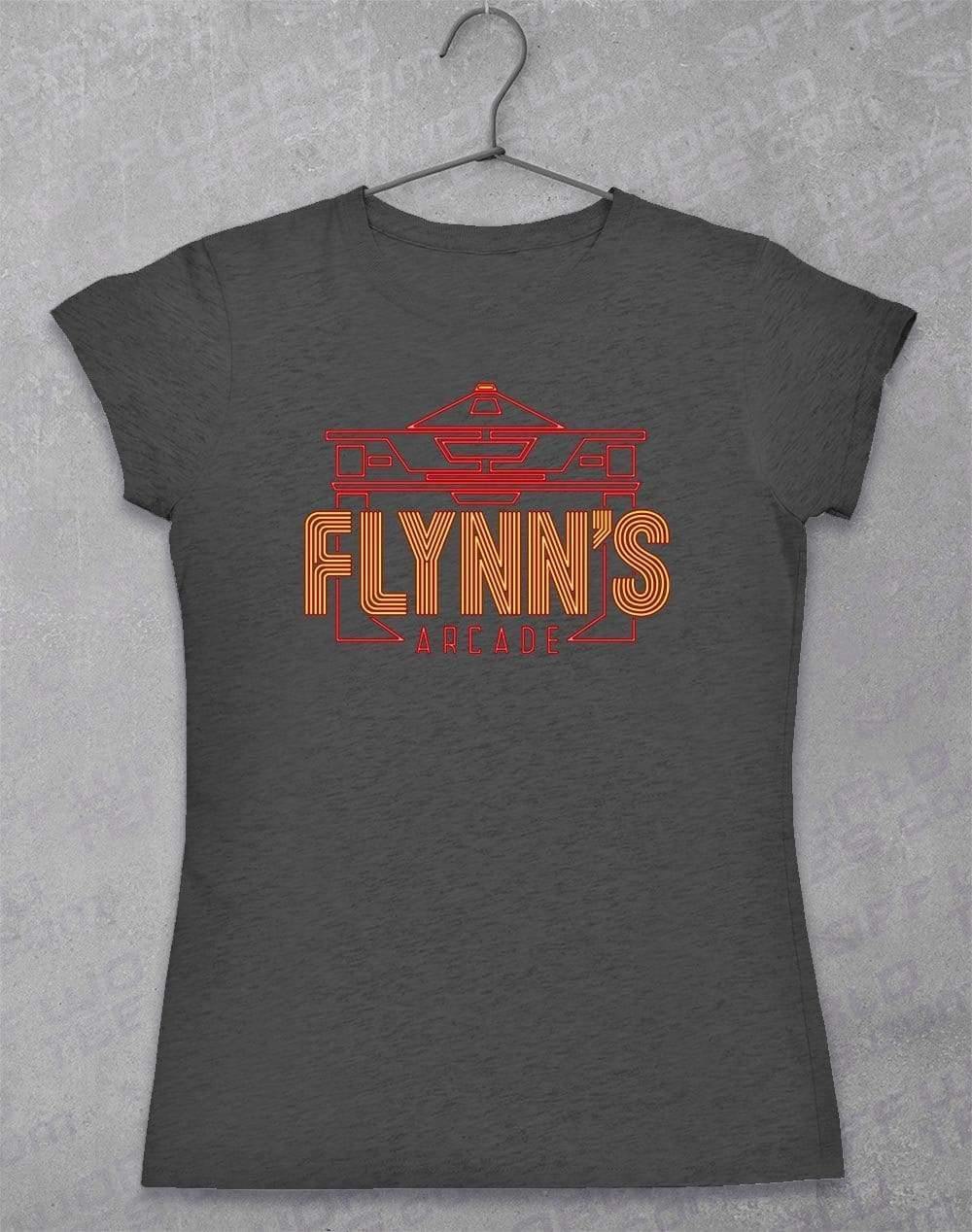 "Train him for the games, let him hope for a while, then blow him away."
Master Control
"I've got a little challenge for you, Sark - a new recruit. He's a tough case, but I want him treated in the usual manner. Train him for the games, let him hope for a while, then blow him away."
- Master Control Program


Here at Off World Tees, we're excited to offer our latest design on our women's fitted t-shirt, paying homage to the legendary Flynn's Arcade from the iconic sci-fi blockbuster Tron. Whether you're a die-hard fan of the movie or love the retro arcade era, this t-shirt is a perfect addition to your wardrobe.
Our women's fitted t-shirt is made from preshrunk jersey knit, ensuring both comfort and durability. The semi-fitted contoured silhouette with side seams gives a flattering fit, while the seamless double-needle 1.3 cm collar, taped neck and shoulders, and tear-away label offer added comfort and ease of wear. The cap sleeves and double-needle sleeve and bottom hems give a stylish finish that complements the design perfectly.
Tron is a classic movie that has become a cultural phenomenon since its release in 1982. The movie boasts groundbreaking visual effects and a storyline that still resonates with audiences today. The world inside the computer, known as "The Grid," is a fascinating and unique place, where programs are people and technology has advanced far beyond our current capabilities. It's a world where Tron plays by its own rules, with programs holding enough power to control the computer itself.
The Tron arcade cabinet holds a special place in the hearts of gamers, and our latest design pays tribute to this iconic machine. The Tron game was developed by Bally Midway, and not Disney, who were busy with The Black Cauldron around Tron's release. Tron and Tron: Legacy were both directed by Steven Lisberger, who also directed the arcade game. Interestingly, Tron was initially titled "Cosmic Fighter" before it became the classic game we know and love today.
Kevin Flynn's Arcade, the iconic arcade featured in Tron: Legacy, inspires our latest design. The arcade serves as the perfect backdrop for the movie's central plot, and our design captures the essence of its neon vaporwave aesthetics. We're proud to offer this design on our women's fitted t-shirt, and we're confident that it will become a staple in any fan's wardrobe.
At Off World Tees, we're dedicated to paying homage to classic pop culture references in our own unique way. Our Tron-inspired design is no exception, and we've put a lot of thought and effort into creating a t-shirt that both honours the classic arcade era and transports you back in time. We hope you enjoy wearing it as much as we enjoyed designing it!
Women's T-Shirt Details
Preshrunk jersey knit
Semi-fitted contoured silhouette with side seam
Seamless double-needle 1.3 cm collar
Taped neck and shoulders
Tear away label
Cap sleeves
Double-needle sleeve and bottom hems
This design is printed on a heavy cotton women's fitted style t-shirt.
Our feedback on the sizing is that it is pretty true to the size guide provided, so if you are always an 12 - We would recommend the 12-14 for a looser fir, or the 10-12 for a tighter fit.
This is a regular fit 100% Cotton T-Shirt.*
* Sport Grey & Antique Heathers: 90% Cotton and 10% Polyester
Disclaimer
This is not official merchandise and is not intended to be passed off in any way as being an officially licensed t-shirt.

We create original designs to pay homage to pop culture references in our own unique way.
Womens Standard T-Shirt Size Guide
| | | | |
| --- | --- | --- | --- |
| Sizes | Width (CM) | Length (CM) | Sleeve Center Back (CM) |
| 8-10 | 44 | 65 | 34 |
| 10-12 | 49 | 66 | 36 |
| 12-14 | 54 | 69 | 37 |
| 14-16 | 59 | 71 | 40 |
| 16-18 | 64 | 72 | 43 |
Delivery Information
Shipping (with delivery confirmation):
| | | | |
| --- | --- | --- | --- |
|  Shipping Zone | Shipping Type | Order Price | Shipping Price (£) |
| United Kingdom | 2-5 Working Days | Any Order | FREE |
| International | 5-15 Working Days | Any Order | FREE |
Tracked delivery options are also available on international orders.
Delivery Times
We are currently operational and working in a particularly futuristic fashion. 
When you order something from us, we have a network of printing providers around the world that help us to fulfill that order. 
If you order in the UK, it gets made up right here in England and shipped out to you within a couple of days. 
Our current turnaround on orders is 2-3 working days, to get them dispatched out to you, with delivery to follow. 
When you order internationally, we use one of our earth bound production hubs to get your order made up and sent out to you. 
What this means:
1: Your item is made using a digital printing method where the design is printed directly onto your shirt. The quality of these prints is something to behold, as you can see if you check out our reviews. 
We have over 20 years experience combined between us and know a great looking print when we see one. And more importantly, we know how to do it...
B: Your items are passed through a high heat tunnel prior to dispatch to 'cure' the inks, but this also does a pretty good job of making sure your garments are as clean as can be before they get packaged up and posted to you.
2: We get to reduce our waste, can make new products our focus, and you still get great quality prints.
D: This does affect delivery times on items. Normally this would be quicker, but to ensure safety and social distancing is adhered to, please allow a few days for dispatch.
Get this product FREE!
Calling All Aspiring influencers: Show Us Your Skills and Get Rewarded!

At Off World Tees, we believe in the power of creativity and the unique perspectives of our customers. We're not just about selling awesome geeky clothing; we want to connect with our community on a deeper level. That's why we're introducing a special offer for all you budding influencers out there.

Think you can capture our products in a more captivating and imaginative way than our own product images? Well, we're giving you the chance to prove it! If you purchase an item from us and believe you can take a better picture, we want to see it. And if we love your photo, we'll not only use it as a product image but also refund the price you paid for the item.

Now, we're not expecting professional-grade photography skills or a fancy studio setup. We're looking for something different, something that stands out from the crowd. Your bedroom might be great, but we want to be blown away by your creativity and imagination. Think outside the box, and let your inner artist shine.

Maybe you want to showcase our retro t-shirts in an epic lightsaber battle with your friends. Or perhaps you want to create a whimsical scene with our cult movie-inspired hoodies. The possibilities are endless, and we want to see what you can come up with.

So, grab your camera or dust off your smartphone, and show us what you've got. We can't wait to see the unique perspectives and interesting images you create. And remember, the bar to entry is not ridiculously high. A decent photo with a touch of imagination can go a long way.

We understand that not every submission will make the cut, but please don't be offended if we say no. We're searching for that special spark that will make our customers go, "Wow, I need that shirt in my life!" If your photo doesn't make it this time, don't be discouraged. Keep honing your skills and unleash your creativity with us again in the future.

At Off World Tees, we celebrate individuality, creativity, and the power of a great photograph. So, go ahead, take a shot, and let's create something amazing together. Show us your talent, and who knows, your photo could become the next iconic image on our website.

Disclaimer: By submitting your photograph, you agree to grant Off World Tees the rights to use the image for promotional and marketing purposes. You also confirm that you are the original creator of the photograph and have the necessary rights to allow us to use it.
Join Our Thriving Community:
Embrace the Nostalgia and Excitement with Off World Tees!
Join our thriving community of movie and TV enthusiasts who can't stop raving about Off World Tees! With over 2,674 glowing reviews from satisfied customers, it's clear that our brand has made a significant impact on the retro-inspired fashion scene. Our dedication to quality, design, and attention to detail has captivated and delighted fans from all walks of life.

When you slip on an Off World Tees t-shirt, you're not just wearing clothing – you're immersing yourself in a world of nostalgia and excitement. Our designs are carefully curated to capture the essence of beloved movies and TV shows, transporting you back in time to relive those iconic moments that have shaped our culture. It's no wonder our community can't help but express their enthusiasm for our clothing.

But it's not just about the designs. Our commitment to quality is unparalleled. Each garment is crafted with precision and care, using premium materials that ensure both comfort and durability. We understand that true fans deserve nothing less than the best, and we take pride in delivering on that promise.

What truly sets Off World Tees apart is our attention to detail. Every aspect of our products, from the stitching to the colour accuracy, is meticulously considered to bring you a truly immersive experience. We want you to feel like an integral part of your favourite movies and TV shows when you wear our clothing, and our community of satisfied customers can attest to the success of our endeavors.

So, why not join the ranks of our passionate and enthusiastic community? Embrace the nostalgia, excitement, and premium quality that Off World Tees brings to every movie and TV fan. Discover the joy of wearing clothing that not only looks great but also connects you to the movies and shows that have shaped your life. With Off World Tees, you'll find yourself surrounded by like-minded individuals who share your love for retro-inspired fashion and the power of cinema. Come and be a part of something truly special.